| | |
| --- | --- |
| Date: | 2020-10-23 |
| Time: | 12:00 CEST |
| How to attend: | Already finished |
If you can't attend this one but want to attend future sessions, join the Meetup group and be the first to know when registration comes online: https://www.meetup.com/SQL-Friday
Mikey Bronowski on "Multi-Server Agent Jobs Administration with Happy Faces and Pigeons
This talk will be about multi-server administration using MSX and TSX servers. Built-in feature you may have seen, but was too scared to play with. Will show you how to configure multi-server environment and how to manage it with least possible resources.
What SQL Server and pigeons have in common? Not much, besides that you do not want to be a pigeon – pigeon post to be specific.
I have been a DBA pigeon in my past. Managing hundreds of SQL Servers and visiting every single SQL Agent to setup the maintenance jobs, backup jobs or any jobs that would help me to keep the servers up and running. Sometimes using SQL scripts, other times Powershell scripts to deploy or update new jobs, but it was still the same ol' way. Flying between instances like a bird. Until, one day, I found out about MSX and TSX! And now my life is full of happy faces! I want your face to be happy too.
In this session you will learn how easy is to setup this hidden and forgotten feature of SQL Server. Will show you how quick is to make a master server and add some new target servers. If you discover an urge to go back to your shop and make a revolution – you can leave before the end – to save the world! Your world!
The pigeon says: "coo roo-c'too-coo"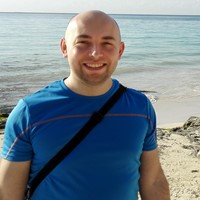 About Mikey
Dad. Data enthusiast with mathematics background. Dealing with SQL Server for over 10 years. Works as a database administrator (Microsoft SQL Server) responsible for environments upgrades and migrations. Holds certificates MCP, MCSE Data Platform and. Microsoft Certified Trainer.
Not long ago Poland Data Community member then Leeds, now proud Southampton Data Platform User Group active member.
When not working or teaching learns new things or attends various data/technical conferences and meetups.
Italian calcio fan and traveller.
Twitter: @mikeybronowski